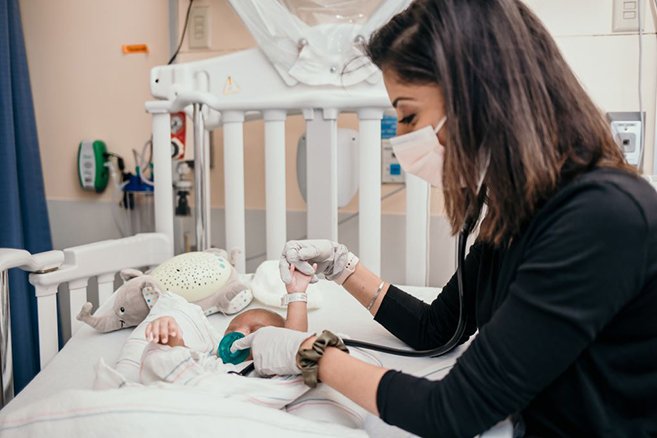 The goal of the neonatal medicine shadow program is to provide VCU pre-medical graduate students and medical students with the opportunity to observe a typical work day for a neonatologist and gain exposure to the healthcare environment of the neonatal intensive care unit (NICU). The program encourages students to explore careers in healthcare or medicine and begin to consider areas of focus in healthcare.
The patients in the NICU are complex and require coordination with different disciplines and services to provide the best care for these patients. By shadowing a physician and the NICU team as they conduct their daily tasks, students can gain a realistic idea of their field and work environment.
The program is available in one of two tracks. The first track would consist of a single day of shadowing, where the student will attend morning rounds with the NICU team. The student will then meet with the fellow or attending on service for any questions. The second track would require the student to commit to attending morning rounds for four days in a period of one month. The days would have to be specified ahead of time in order to allow proper scheduling for other students, as no more than one student is allowed on rounds per day. Rounds usually run from 9 a.m. to noon. For either tracks the students are required to submit a one page description of their experience in the NICU. In addition, students opting for the four day track are required to pick a topic with the attending on service and present that topic to the team in the form of a 10-15 minute oral presentation. This should take place on the last day of their shadowing experience.
Physician shadow opportunities for current VCU students are offered throughout the year but not offered between June 18 and Aug. 10. Students can pick any day Saturday through Thursday; Fridays are not available.
Please submit your current CV and a 200-word personal statement stating which track you are applying for, why you chose to join the NICU, what your goals are for the time you will spend in the NICU and how you are hoping to achieve those goals. Once your CV and personal statement are reviewed and approved, you will be contacted for further instruction on the application process.