Granted recognition by the American Board of Pediatrics in 2018, pediatric hospital medicine is one of the newest subspecialties in health care. The VCU Department of Pediatrics is proud to be at the forefront of this emerging field, offering a team-oriented, evidence-based and family-centered approach to taking care of children during their hospital stay and the only ACGME-accredited fellowship in the Commonwealth of Virginia to complement our dedication to education of anyone who provides clinical care to children.
With compassion and clear communication, our faculty and trainees collaborate with physicians, nurses, therapists and other specialists across the broad spectrum of pediatric health care to treat children with the following:
Infectious diseases
Respiratory illnesses
Complex medical conditions
Recovery from injuries (accidental or inflicted) and surgeries
The department is dedicated to partnering with community sites to provide care for children across the Greater Richmond Region. Faculty in the Division of Pediatric Hospital Medicine staff the inpatient unit within the Children's Hospital of Richmond at VCU in downtown Richmond.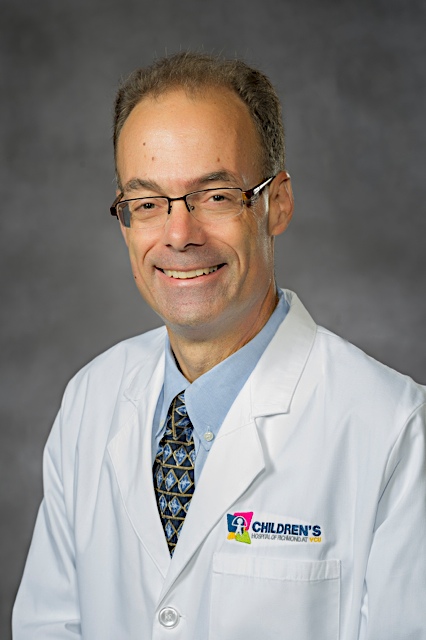 "We just want the kids in Richmond to get the best care."
David Marcello, M.D.
Medical Students
Medical students rotate through the inpatient floors during their M3 clerkship and M4 acting internship. Students learn alongside residents and get face-to-face feedback from the hospital medicine attending or fellow.
We also facilitate simulation sessions for students, which allows them to gain practical experience and confidence in handling the first five minutes of an emergency before the ICU team arrives.
Residents
Pediatric residents gain exposure to hospital medicine during all three years of the program. In addition to extensive inpatient experience and bedside teaching, trainees receive thorough evaluations during what is known as Feedback Friday.
Designed to foster individual interests, the pediatrics residency curriculum includes elective rotations each year, with the opportunity to choose hospital medicine as a subspecialty track.
Fellows
Started in 2015 and recently accredited by the ACGME, our pediatric hospital medicine fellowship is the only one of its kind in Virginia.
The two-year program trains the next generation of pediatric hospitalists with a curriculum based on five pillars: clinical care, medical education, research, quality improvement and leadership.
Research
Research efforts in our division focus primarily on education and quality improvement. Faculty and trainees innovate medical education methods, examine the clinical outcomes of inpatient therapies and participate in hospital-wide quality improvement committees. We also publish and present our findings at national and international conferences and meetings.
Explore other research opportunities
Children's Hospital of Richmond at VCU Faculty
Advanced Practice Providers
Amanda Bane, CPNP
Kristen Hooker, PA-C
Jennifer Schrecengost, DNP, CPNP
Amy Spinella, CPNP